If you want to retain your independence but struggle getting up and down the stairs, why not have a stairlift installed? While the idea might feel daunting, it's a great way to offer peace of mind, keep you safe and enable you to keep living your life on your own terms. Here we have put together a handy guide on what to consider when purchasing a stairlift for your home…
As you age, you might find yourself struggling to manoeuvre around as efficiently as you would like to, particularly when it comes to getting up the stairs. Climbing the stairs may become difficult, causing you pain and affecting your quality of life. While you may have someone who can assist you up the stairs, this isn't always feasible, particularly if you want to try and retain as much independence as possible. Which is where a stairlift can be extremely beneficial. A stairlift can help with restoring your freedom, reducing the chance of you getting injured and enabling you to move freely between the floors of your home. Stairlifts are easy to use and can be installed fairly quickly. Below we look into what to consider when purchasing a stairlift.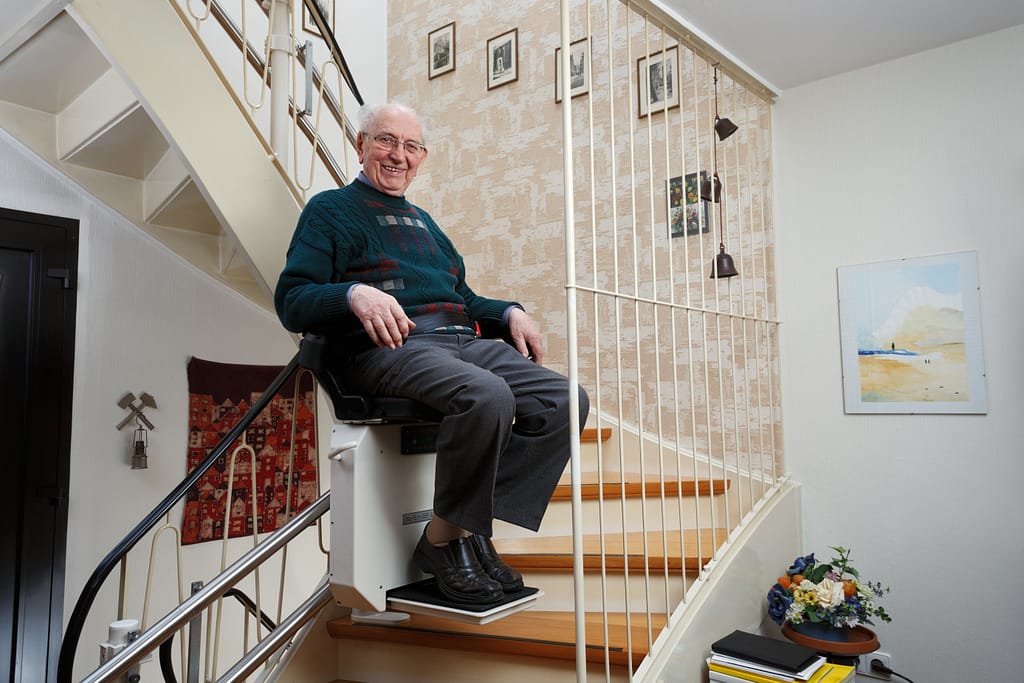 Think about what you want to spend
At Premier Community we sell a broad range of stairlifts that vary in price depending on the features and accessories they come with. For this reason, budget is a very important thing to consider when purchasing a stairlift. You want to make sure you can afford the stairlift you are purchasing without putting a strain on your finances. It could be that you look into our reconditioned stairlifts to help with the financial burden. If your budget can't stretch that far, it could be that you qualify for a disabled facilities grant. In order to qualify for this, you would need to contact your local council who will perform an assessment.
Consider the type of stairlift you'll need
When you are considering purchasing a stairlift, you will need to research the correct one for your stairs. There are different stairlifts available depending on the type of stairs you have and most commonly these are a straight stairlift or a curved stairlift. Typically, a straight stairlift can be installed within a day or two of being ordered whereas a curved one may take slightly longer. A curved stairlift is often more expensive as additional parts are required and it needs to be custom-made to fit your home. If you haven't used a stairlift before, it may also be worth visiting our showroom in Derbyshire or Sheffield for one of our team members to demonstrate one to you as well as find out more about your specific needs.
Research the stairlift that will suit you best
Every customer who's interested in a stairlift will have their own reasons for being so. For this reason, it's important to consider your own needs. There are many different models in the market, each serving its own purpose and helping specific conditions. Ergonomic controls are good for users suffering from arthritis, if you have kids you may want a certain lock on your stairlift or, if you suffer from knee pain may opt for a perch seat. It's important to do your research and to speak to one of our experts, who will be able to advise you more on the right stairlift for you.
Make sure you ask questions
If you've never purchased a stairlift before, you are likely to have plenty of questions. Make a list of them before speaking to a member of our team either in-store or over the phone and please get in touch whenever you need any more information. There are many things to consider and it can seem daunting if it's all new to you. Don't worry, we are here to put your mind at ease in no time at all.
See what other people think of certain stairlifts
Do you know a friend or family member who currently uses a stairlift? If you do, it's always worth getting advice from them as they use it on a daily basis. They will be able to advise you on what to look for and any specific questions to ask. It's also worth looking at stairlift reviews online as customer feedback can give you a good indication of whether a product is good or not.
Always check the warranty
A crucial factor when purchasing a stairlift is that you want to check is it comes with a warranty, how long the warranty lasts and what's included under its warranty. Although you hope nothing happens to your stairlift, unfortunately, breakdowns are sometimes unavoidable and a repair may be needed. Having a good warranty cover will give you peace of mind that there won't be any unexpected costs. At Premier Community, our standard warranty for a new stairlift is 24-months, on a reconditioned stairlift you will receive 12 months warranty.
Consider the size of the seat and weight capacity
Many stairlifts will come with a standard weight capacity of 300 lb and standard seat size. If this capacity is below your requirement, you may need to purchase a specific chairlift that caters for a higher weight capacity and a larger seat size. Depending on the model of your stairlift, it could require additional space to be installed. Get in touch with us and we can advise on the best choice for you.
Summary
When purchasing a stairlift it's important to do your own research and speak to an expert for help. If you know someone who has one already, speaking to them for recommendations and advice can be extremely helpful. If you haven't used one before, a visit to our showroom in Derbyshire or Sheffield will give you a chance to get hands-on with one and learn how they operate. As well as helping improve your quality of life, a stairlift can significantly help with your independence and peace of mind.
If you have any questions about stairlifts or would like to speak to someone about getting a price for one. Please get in touch with a member of our team. Our expert advisers are on hand to help assist you with getting the right stairlift for your requirements. We run an ethos of being open, non-pushy and trustworthy.