Looking to maintain your independence and make it easier to get around? These are just a few benefits of a mobility scooter and how it can help improve your quality of life. We've put together a top list that shows just what it can do for you…
It's important to maintain a good quality of life, not only for your wellbeing but also for your mental health. Part of getting older can be that the things you used to do become harder and more taxing on your body. Instead of giving up and feeling isolated, it's important to find ways around this and to continue to be independent and enjoy your day to day life. A mobility scooter can make your life easier and take on the role that you may struggle to currently do. It can improve your independence and your social life, allow your body to heal, prevent injury and improve many more aspects of your life. There is a whole myriad of benefits to owning one, below we list out seven of them.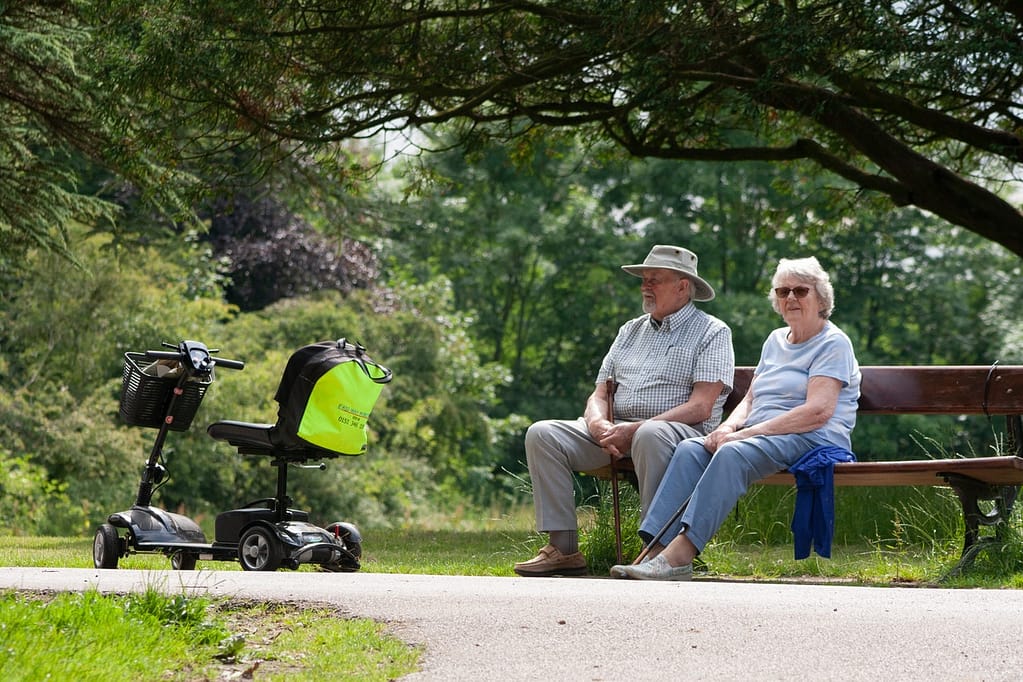 Improve your independence
It's important to still feel independent, no matter your age and not feel like you're burdening others. Not being able to leave the house without the assistance of a friend or a carer can be frustrating and affect your mental wellbeing. This is another important one in our list of benefits of using a mobility scooter. By using a mobility scooter, you are able to bypass these barriers, enabling you to explore in your own time. You'll be able to go out when you want and manoeuvre around the shops, independently, without having to have someone assist you. Everyday activities can be enjoyed without feeling like a chore.
Increase your social life
If you are struggling to get around, it could be affecting your social life as you are worried about going places that are outside your comfort zone. Using a mobility scooter is one of the best ways to improve your confidence as it allows you to get out and explore in your own time. Being able to visit places in your local community like a coffee shop, restaurant or a friend's house is important. If you've found yourself turning these things down due to being worried about getting there, by using a mobility scooter you can give yourself that extra level of security and confidence to get up and go.
Reduce the chances of you injuring yourself
Another way a mobility scooter can make your life easier is that it can help with injury prevention. A mobility scooter reduces the amount of time that you need to spend on your feet, which as you get older can cause fatigue and injury. They are extremely comfortable and easy to use, so when in crowded spaces you can manoeuvre around with ease and don't risk being knocked over and hurting yourself. Tiredness is something that can affect your body as you get older, with a mobility scooter you are more likely to be able to stay out later as you won't be exerting yourself as much.
Feel more comfortable with the day to day activities
When taking part in your daily activities, you may find yourself feeling more fatigued as the years go by. Standing in a queue for your shopping or waiting in line for a restaurant can make you feel tired and in pain, ruining the experience. Luckily, there is no need to suffer. Instead of the misery, use a mobility scooter to feel more comfortable and make your day to day activities more enjoyable. Being able to sit and relax will improve your quality of life and will open the doors to activities or events that you may have stopped doing.
Help you get around easier
One of the main benefits of using a mobility scooter is to allow you to get around easier. Mobility scooters are allowed on public transport like trains and buses, enabling users to travel further afield. Some scooters are foldable or dismountable, helping them fit in the boot of a car. Class 3 scooters are also allowed on the pavement and road. Many scooters come with accessory packs, to store your belongings, shopping and walking stick if you require one. You'll also benefit from lights and indicators so you can explore in the dark as well as rain covers if the weather isn't great outside.
Allow you time to heal
Unfortunately, injuries do happen and the older you get the longer it can take to heal. Depending on how severe your injury is, it may be that you don't want to be walking about as this could aggravate it and prevent it from healing. Luckily, a mobility scooter will allow you to be mobile while protecting your injury and giving it a chance to heal. You'll still be able to go out and get some fresh air whilst giving your body, muscles and joints some rest.
Mobility scooters are user friendly
Mobility scooters might seem complex but this couldn't be further from the truth. They are extremely easy to use and are very user friendly, ideal if you have never used one before. The more you use one, the less daunting it will be, slowly becoming second nature to you. No matter which scooter you go for, they all work in a similar way, making it easy for you to transfer from one to another. If you feel nervous, you can always try one before committing to buy one.
Summary
A mobility scooter is extremely beneficial to increasing your quality of life. As you age and things become harder, it allows you to keep certain doors open, reducing the chances of you feeling isolated. You will continue to have your independence and be able to enjoy a happy social life. Try not to see a mobility scooter as a negative, instead, as a positive and something that will continue to help you in a favourable way. There are many different mobility scooters out there for you to try, meaning you're sure to find one suitable for you. Get in touch with us today to discuss your needs and out more about the benefits of a mobility scooter. We would be more than happy to help you find the mobility scooter for you.