Stairlifts Solution
Our award winning family business have been fitting and supplying stairlifts for over 20 years.

We provide a hassle-free trustable service and upfront pricing. Get your free, no obligation stairlift estimate below using our stairlift calculator.

Our Stairlifts Solution
We offer both straight and curved stairlift solutions. We also offer stairlift installtion at a competitive and affordable price.
The new stairlifts we supply are quality checked and installed by our own Premier Community Engineers. We are 'approved fitters' with a number of national suppliers including Acorn Stairlifts and Handicare Stairlifts.
We have showrooms in Derbyshire and Sheffield. Both showrooms are equipped with demonstration lifts. You are more than welcome to come down and test drive the stairlifts and meet us.
All our stairlifts enquiries will recieve a free non pushy survey. We are so confident of our pricing we have our transparent stairlift calculator on this webpage. We won't take any contact details until you want to turn your stairlift estimate into a free quote.
We promise to match a like for like quote on all stairlifts if you want to use Premier Community as your approved fitters.
Or request a call back…
Let one of our friendly team arrange a free call back at a time convenient to you. Simply fill out the form below:
The Benefits of Stairlifts
Stairs can be harder to manage when we get older and have reduced mobility, which can affect independence. Moving into a bungalow or an alternative property can be an option but a stairlift may give you the option to stay in the home you are currently in.
A stairlift provides independence
Stairs can become more challenging in later life so a stairlift give you the ability to move between the floors of your house without the help of a carer or family member.
A stairlift can prevent accidents
Older people are more susceptible to falls with a staircase. Whilst a hand rail or improving the surface of the staircase can help, a stairlift is the ultimate solution when it comes to making moving up and down the stairs and helping you stay safe in your home.
A stairlift is easy to install
A stairlift will fit any kind of staircase with straight and curved options available.
A stairlift will help you enjoy your retirement
A stairlift will let you enjoy retirement and stay in the home you are in. Sheltered or residential housing, or moving house as we get older might not always be an option available or wanted so a stairlift removes the potential hazard a staircase can become.
Extensive Range of Stairlifts
We are able to supply and install an extensive range of stairlifts from a variety of well respected brands such as Acorn and Handicare.

Acorn Stairlifts
One of the most popular Acorn stairlifts we sell is the Acorn 130 Superglide Staircase, one of the most most technologically advanced straight stairlifts on the market today. The Superglide fits perfectly into any home environment, and provides a safe, comfortable and simple solution to those who have difficulty with the stairs.

Handicare Stairlifts
We supply a range of Handicare stairlifts including the Handicare 950 straight stairlift and the Handicare 950+ stairlift. The Handicare 950+ has a full powered options with a powered swivel seat.
The Handicare Van Gogh is ideal for curved staircases, providing a safe, smooth and comfortable ride up even the most complex of staircases. And the great thing about this Handicare stairlift is that it's available with a variety of colour options when it comes to track and seat.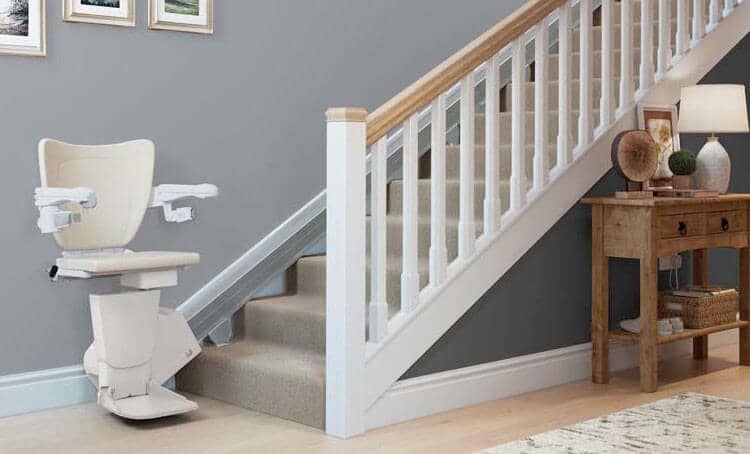 Straight Stairlifts
If your staircase is straight with no bends or curves then you will need a straight stairlift. Straight stairlifts can only move in straight lines so cannot navigate corners, landings or turns. Unsurprisingly a straight stairlift is perfect for straight staircases!
We can offer hassle free installations of straight stair lifts which means you'll be gliding effortlessly up your stairs in no time.
Get your free straight stairlift quote by using the form on this page.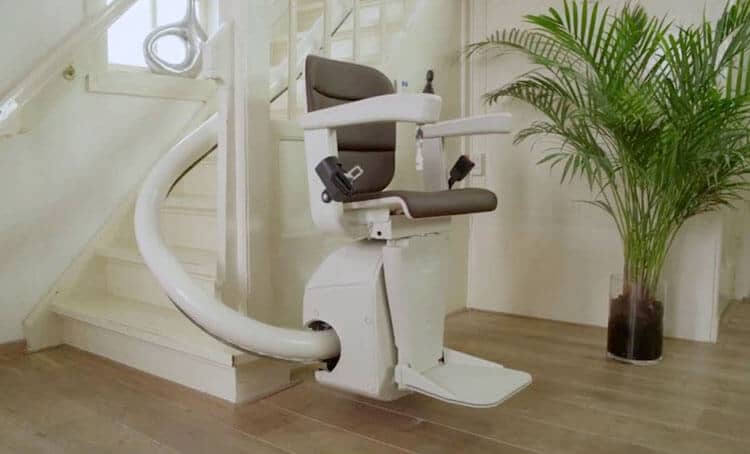 Curved Stairlifts
If your home has a curved staircase or curved stairs then a curved stairlift will be the solution that you need.
A curved stairlift can negotiate staircases that go around bends and corners, and even landings.
Our experienced stairlift engineers can fit curved stairlifts in a variety of situations that involve narrow staircases and even spiral staircases.
Request your free quote for a curved stairlift installation today by using the form on this page.
Extended Warranties
Being a stairlifts customer of Premier Community means you will benefit from our standard 24-month warranty on new stairlifts and a 12-month warranty on reconditioned stairlifts.
We have multiple stores and locations so you will always have somewhere to visit to get advice as a customer. We also have lots of other products and services all with our same Premier Community ethos of being open, non-pushy and trustworthy.
Stairlift Features
Stairlifts can be supplied and installed with a wide range of features and additional features to suit your individual needs.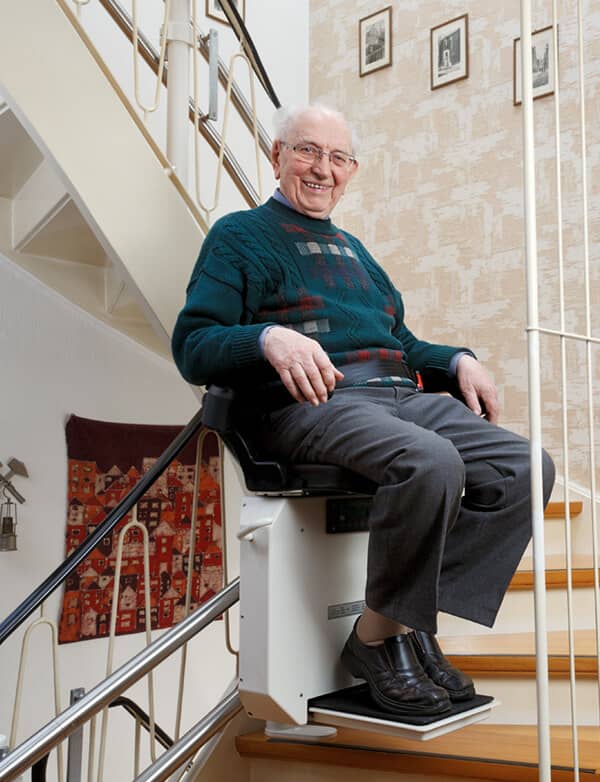 Get your FREE, no obligation stairlift quotation today
Products and Services for Your Independence
Call us on 01623 810 100 or